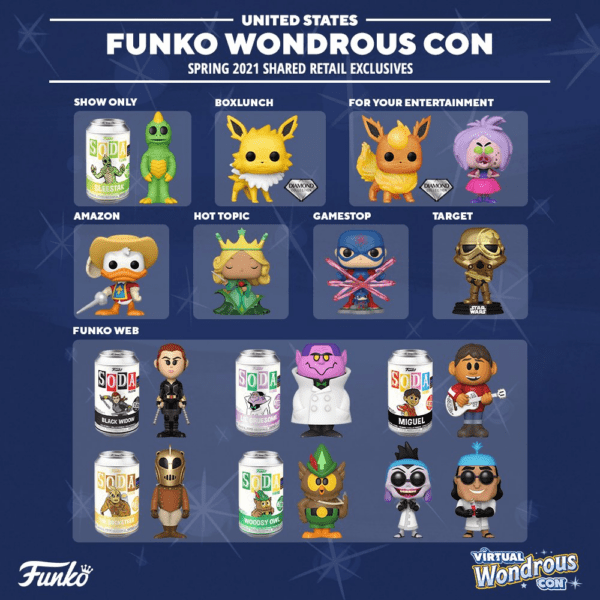 For the second year in a row, Funko will be offering a slate of WonderCon exclusives. Also for the second year in a row, everything will be done as a Virtual Con. According to the Funko website & social media pages, all the shared retailer exclusives will be available online at 9am Eastern on Friday, April 24th. In store availability may vary. This will be a living document, so keep checking for updated links when these are available, and make sure to keep an eye on our Instagram & Facebook for up to the minute release updates!
Amazon:
–3 Musketeers Donald Duck
Box Lunch:
–Diamond Collection Jolteon
FYE:
–Diamond Collection Flareon
–Madam Mim
GameStop:
–The Atom
Hot Topic:
–Enchantress
Target:
–Gold Stormtrooper
Funko Shop:
-Yzma & Kronk 2-Pack Bundle
-Black Widow Soda (with White Chase)
-Woodsy Owl Soda (with Flocked Chase)
-Lil' Gruesome Soda (with Red Chase)
-The Rocketeer Soda
-Miguel Soda (with Sugar Skull Chase)
Funko held a Lottery for all their Fun Club members for the opportunity to purchase all the items on the Funko Shop early. If you are not a Fun Club member, download the Funko App now and sign up, as it looks like SDCC will also be a Virtual Con.
Good luck & have fun!