Welcome to the SDCC Shared Exclusive Guide! These exclusives will available at the respective retailer, on Thursday 7/20. According to Funko, items should be available everywhere starting at 9am Eastern. Click the links below to go right to the page for each exclusive (many links will not actually work until they are live). This will be a living document, so keep checking for updates when these are available, and make sure to keep an eye on our Instagram & Facebook for up to the minute release updates!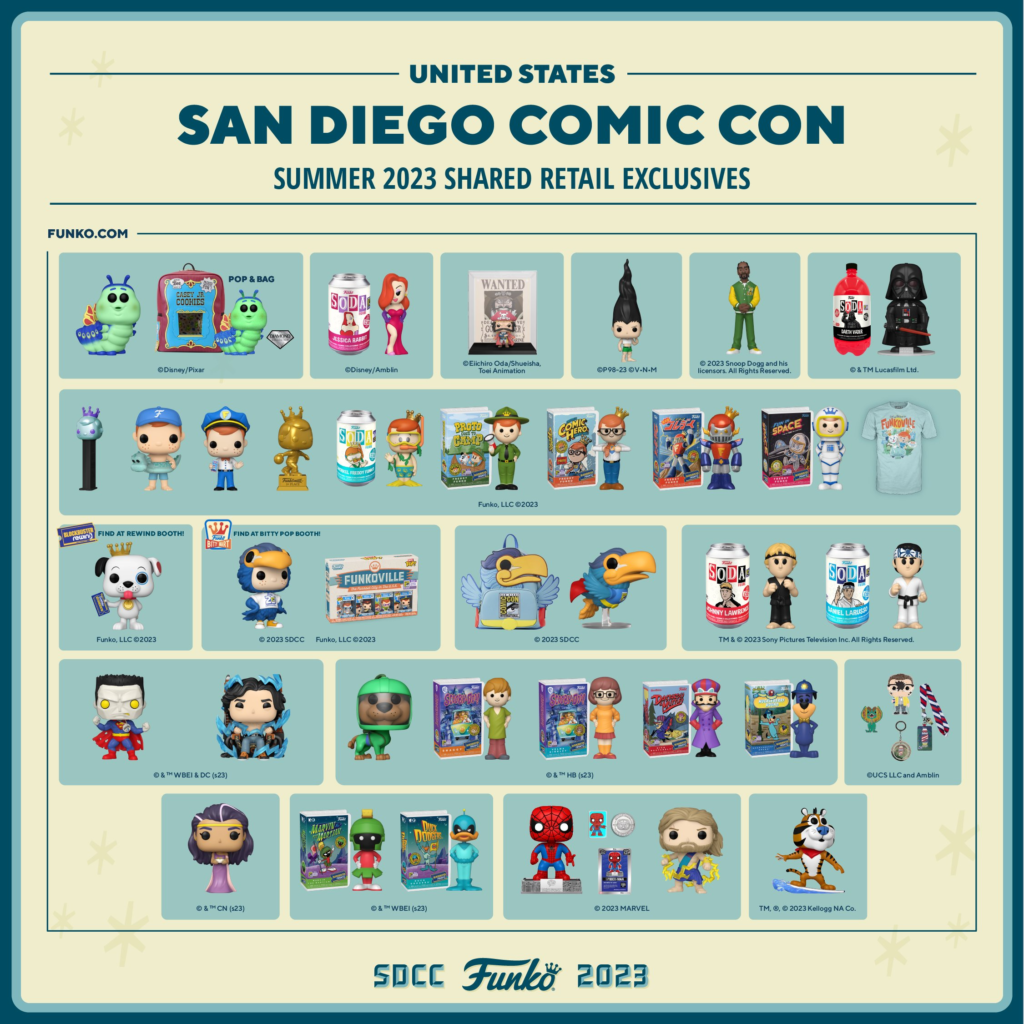 Amazon:
–Airazor POP!
–Johnny Knoxville POP!
Best Buy:
–The Dude on Rug POP!
Books-a-Million:
–Alina Starkov POP!
Box Lunch:
–Tanjiro Kamado & Sakonji Urokodaki 2-pack POP!
eBay:
–The Question POP!
Entertainment Earth:
–Princess Leia POP!
–Lilith POP!
–Gorr's Daughter POP!
Funko.com:
–Surfing Tony the Tiger POP!
–Bizarro POP!
–Barry Allen POP!
–Gaia POP!
–Scuba Scooby-Doo POP!
–Omniscient City Thor POP!
–Gol. D Roger Wanted POP! Poster
–6″ Awaken Gon POP!
–25th Anniversary Spider-Man POP!
–Heimlich POP! & Loungefly Bag
–Floaty Freddy Funko POP!
–Fun on the Run Freddy Funko POP!
–Bowling Trophy Freddy Funko POP!
–SDCC Flying Toucan POP!
–Freddy Funko as SDCC Toucan POP!
–Proto the Dog POP!
–Freddy Funko Bitty POP! 4-Pack
–Metallic Freddy POP! PEZ
–Darth Vader (with Clear Chase) 3-Liter SODA
–Jessica Rabbit (with Diamond Collection Chase) SODA
–Daniel LaRusso (with Fight Stance Chase) SODA
–Johnny Lawrence (with Fight Stance Chase) SODA
–Scuba Freddy Funko (with Black Light Chase) SODA
–Snoop Dogg "Ego Trippin'" GOLD
–Shaggy BlockBuster Rewind
–Velma BlockBuster Rewind
–Officer Huckleberry Hound BlockBuster Rewind
–Dick Dastardly BlockBuster Rewind
–Marvin the Martian BlockBuster Rewind
–Duck Dodgers BlockBuster Rewind
–Superhero Freddy Funko (with Hero Chase) BlockBuster Rewind
–Camp FunDays Freddy Funko BlockBuster Rewind
–Robot Hero Freddy Funko BlockBuster Rewind
–Astronaut Freddy Funko BlockBuster Rewind
–SDCC Toucan Loungefly Bag
–Jurassic Park 30th Anniversary Bundle (Sticker, Pin, Lanyard, & Keychain)
FYE:
–Wicket with Slingshot POP!
–Jimi Hendrix "Purple Haze" POP!
–Reptar (with Purple Chase) SODA
GameStop:
–Nozel Silva POP!
–Glow in the Dark Sesshomaru POP!
–Short Round POP!
–Rita Repulsa POP!
–Unmasked M.O.D.O.K. POP!
–Ghost Rider POP!
–Rodimus & Galvatron POP!
Hot Topic:
–Shaiapouf POP!
–Talia Al Ghul POP!
–Frodo with Ring POP!
–Tony the Tiger (with Surfer Chase) SODA
Meijer:
–Fairly Odd Parents 3-Pack POP! (link directs to Funko search on Meijer.com, no word on if these will be available online)
Target:
–Hatching Raptor POP!
–Swimming Ariel POP!
–001 POP!
–Captain Marvel POP!
Toy Tokyo:
–Tweety POP!
–Bugs Bunny as Fred Flinstone POP!
Walgreens:
–Trigon POP!
SDCC Show Only: (Some Small quantities of these may be available at Funko.com)
-Flocked Surfing Tony the Tiger POP!
-Black Light Floaty Freedy Funko POP!
-Black Light Jimi Hendrix "Purple Haze"
-Diamond Collection Gaia POP!
-Diamond Collection Powerpuff Girls 3-Pack POP!
-Black Light Batman Bitty POP! 4-Packs